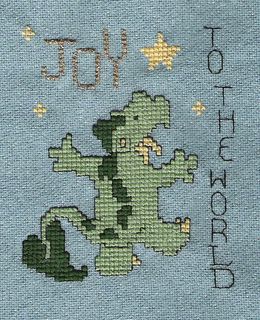 Joy by Dragon Dreams
It feels good to have a little finish, especially with a large project on the go. Now I have 3 dragon dreams ornaments down and 4 to go, excluding the christmyths which I only have one of completed. It's kind of odd that I have so few of them done where the 2002 ornament caught my eye in the first JCS ornament issue I ever purchased, many DD patterns were to follow but I only got the Peace on Earth Dragon stitched this year! I can't wait to to have them up on the tree this year (will definitely require a REAL tree this year to have enough room for ornaments).
Last night was pretty laid back, I was feeling pretty worn out yesterday so I puttered around but at least the floors are swept now and some of the crack filling I'd done monday night is sanded. After reading about the Oompa-Loompas to Alex I put my feet up and finished stitching Joy.
Tonight is the Friends that Count stitching night and I can't wait to go. With the weather being as miserable as it has the last several days, it'll be nice to get out with some cheery friends and see what everyone is up to these days. The new Summer Teapot by Fiddlestitch Cottage may be available early at the meeting (as opposed to the first day of summer) so I'm hoping to pick up my copy :)