Well I've heard of the Easter Bunny, infact he was out scoping my new bulbs...twice. The tame little bugger let munched away defiantly until Alex was 2 feet away and then bolted. Then he had the nerve to come back while I was at the store picking up some coke so we could try out the rum mom and dad brought back from us (which is sooo much bette than the captain, I'm not a rum drinker but it was divine!!). Anyway, when I came back and noticed he was again in our garden I had a little converation with him. It took alot of talking to get him away from my arbor...then he took up camp back where my new lillies are planted, grr... It took a good 5 minutes to scare him off and he must have been ticked as he got the forest muscle to come knock over our garbage can.
Enough about bunnies and racoons, my other favorite subject my monkey. Alex is a flourishing fashionista. Thursday he had his first dentist appointment and we had some time to kill so I headed to the mall to pick up some more carpet deodorizer and stopped in The Children's Place to pick up a shirt for easter and Lisa's wedding. Well...he wanted an argyle knit vest (which he didn't get) but did talk me into the hat...

The trip to Grand Falls was uneventful. We made a pitstop in Centerville so I could meet one of our World of Warcraft buddies/Matt's Groomsmen, after mainly grouping with his dwarf and gnome he's much taller than I expected ;) We had a nice visit, eventhough that involved me going to a baby shower. Thankfully one of Eleni's friends husbands knows Matt's cousin and she ended up at the babyshower so I had someone to talk to (it's hard to fit into an enormous family). We headed back home Sunday after dinner with my wedding dress in tow, yay!! Unfortunately my monkey was a sick one by the end of the weekend, it's a good thing he had today off to play with grammie and pappy.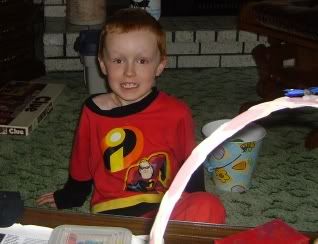 I did get some stitching in this weekend. After Matt and I watch the season finale of Battlestar Gallactica tonight I should be finished The Time I Spend Stitching up until the non gold Kreinik that I need to order, sigh... I can't wait to put that up in my craft room :) I also kitted up Bent Creek's angel (JCS 00) for my lunchtime project.

In other news dad thinks he may have part of our water problem figured out. He noticed when he was out walking the dog that most of our neighbors have their downspouts routed far away from their homes, and ours wasn't... and hitting some concrete patio slabs that are creating a negative slope pushing all that water against the foundation. You could just see the water seeping all along the wall that's had the problems. I put our wheelbarrow out under the downspout until we could head to Kent's and it was full in less than an hour! Now thanks to dad we have a nice new pipe that extends a ways away from the house. I really hope that solves our problem. While at Kent's I noticed their bulbs were on sale so I picked up six Hostas for one of my gardens, a black eyed susan and 5 japanese lanterns. I think the bulb budget is at it's max for this year ;)