Well, there were two finishes this week on the stitching front, Snowman and Joyful Santa, both by Mill Hill. I can't wait to get the Christmas tree out again...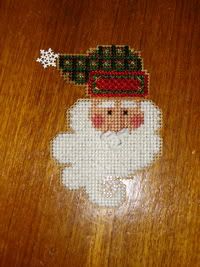 No progress as of yet on my Blackwork Princess though :(
I went to a kick butt Body Pump class on Friday, skipped the Sunday one though for Eleni's Mary Kay get together which was fun. I really needed a pampering session after this week. DS got in trouble at school on Thursday, swinging around and coming into contact with a grade 2 girl. I checked my phone messages (he's good about telling me when he's been punished for something) and the teacher left one at work (I was in training) and it was more of a "well they said", so we laid out a big restrictive punishment. Friday however I was talking to my friend Tracy (and coincidentally DS's after school care provider) about what had happened while he was outside and her ten year old piped up that these two grade two girls had been tormenting him all lunch hour and knocking off his hat. Don't get me wrong, he shouldn't have done what he did but I'm quite frankly disgusted at how, I dare say, gender biased the discipline has been in just his first year of school. So much for the anti-bullying initiative !!>:(
This week we also had a visitor to our lot, a nice big fox went flying through the back yard. Not what I was expecting to see stepping out of the shower! It was so nice Saturday we went for a walk through part of the subdivision and I'm now thankful we're on high ground. The street behind us is much lower (we have a sliding hill at the back of our property) and many of the homes on that street have severe damage to their culverts due to the unseasonably mild weather we've experienced lately.
Well enough of me rambling on...Blackwork Princess Awaits!!