Wow, I haven't been blogging much. Maybe it's been the baking, wrapping, finishing and of course a 'wild' night out ;)
So far we have three batches of fudge and a bowl of gingerbread dough which should be rolled out shortly. I'd planned on having a little more done by now but I wasn't planning on waking up with the cold Matt and Alex had last week and completely wiped out on Friday. I almost fainted when I woke back up and saw the clock at 12:30pm.
Wednesday night was really fun, Cathey has the best account of our night with
Flat Shannon
. It's a good thing we'd planned our night out to the chinese restaurant and chick flick about a month ahead of time or I'd probably have found myself too wiped out, like any other invitation this month. But getting out was awesome, the closest I've had to a real girl's night out next to retreat in awhile. It really recharged my batteries.
I did inventory on the closet last night and just have a couple more presents to wrap, which hopefully will be done tonight so I can box them for the trip to the Miramichi on Tuesday. Woot! Any of my stitchy time this week has been dedicated to lacing pictures and doing some ornament finishing on both a project for me, and two gifts.
Tis The Season from the 2006 Tiny Tidings for Alex's Teacher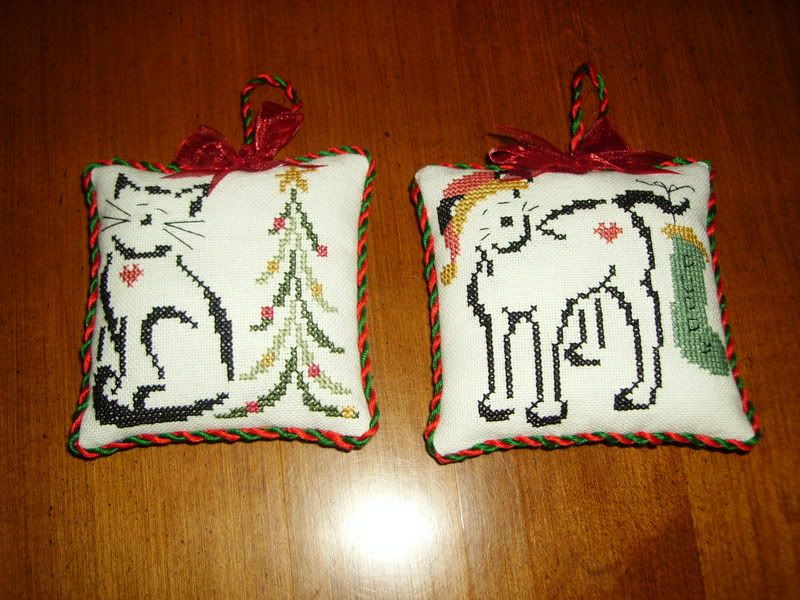 Britty Kitty and Britty Puppy, two gifts (and my first attempt at making cording)
And this is just for me...
Now...back to work...