We've arrived on the Miramichi safe and sound!! The drive was thankfully uneventful although my timing couldn't be worse. I think we met every school bus on the highway. Alex slept the whole way home so I had two whole hours of peace and quiet. After a delightful supper at
My Mother's Kitchen
we came home to decorate tree number two. I absolutely adore tree decorating! This time around it was a live tree which is a bit more of a challenge than our artificial at home but here's what we ended up with ;)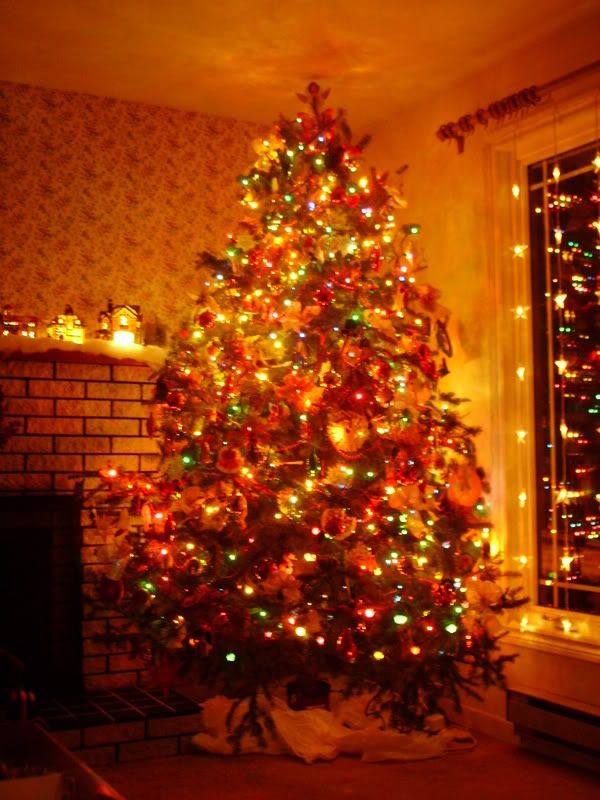 So yes, relatively no stitching that night with the exception of beginning to attach the charms to that last gift that needs to be assembled ;)
I've been battling a new sinus infection *yuck* which had me out at the malls searching for drugs yesterday. With significant amounts of pseudoephedrine in my system I was able to steal a couple minutes of sleep here and there without being kept up by my ringing ears. I also finished attaching the charms, finished basting the outline of the stocking and basted on the cording yesterday. Hopefully all of this basting will pay off!!
After supper dad and Alex headed out to the pool. I think they swam the entire 2 hours as after they came home Alex went in to watch Miracle on 34th street and when we went back to check on him this is what we found...
Mom and I then snuck out for a girlie night, exactly one week since our adventures with Flat Shannon :) What did we go see?? The Holiday, again!! I think I liked it even better the second time. Jude Law was just too adorable.
Today consists of finishing up the Christmas baking and a little sewing, hopefully. The cherry balls are all assembled and now I need to dip the Oreo Truffles and mix up the icebox cookies :)
Happy Holidays!!!