Oh wow, the holiday sure does go quickly. Christmas Eve I finished up some of the appetizers for our little party after church. Mathieu finally arrived late in the afternoon with his bag of burger king as predicted. He always says he's coming early and ends up coming late...and with burger king, ewww... Wow, I really felt my age in church, all of the kids were all grown up! I still don't see myself at 30 at all. Alex was very well behaved, although it wasn't until we arrived there that I noticed he'd put on his big winter boots instead of his dress shoes, eww... After church we all got to open a present. Of course the one Alex was after was way under the tree, but he was very pleased to receive his two transformers from Matt. Before bed Alex laid out the cookies, his letter, the new cross stitch and the Christmas Pickle for Santa to hide ;)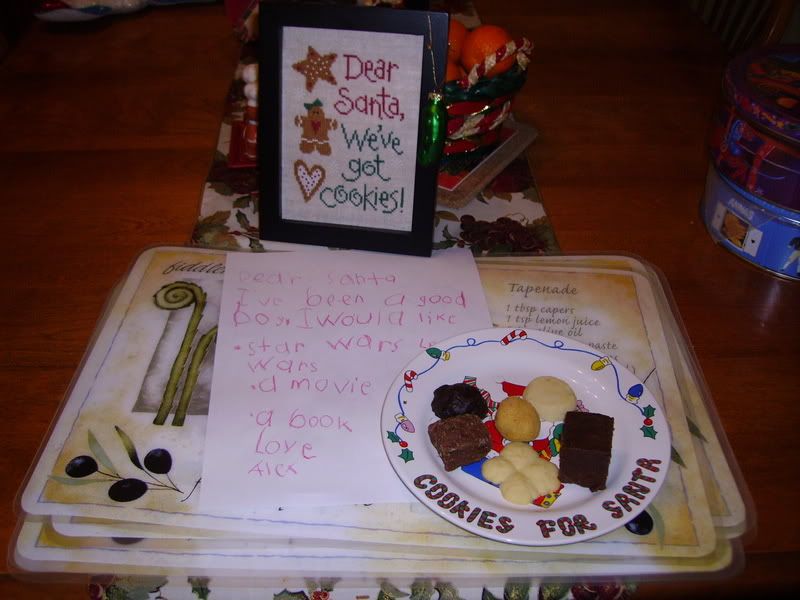 After he was safely in bed we rolled out the appetizers and settled in for some Scattergories and then Santa made his visit. Mathieu was quite impressed with the stocking he received.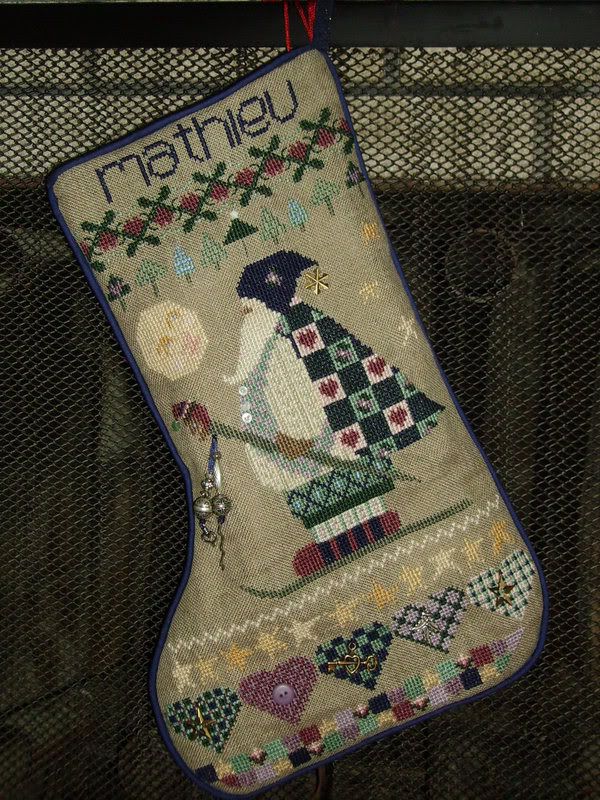 Christmas morning was busy. Alex hopped into bed with us at about 8:30 and after the stockings were emptied I started the big Christmas brunch. Between that and the late start we only wrapped up gifts at 1pm. Dad liked his Alex Calendar and mom also liked her Voice of The Shepherd
We must have been pretty good this year. Matt received a much needed new wardrobe between Santa and my parents. Alex LOVED all of his gifts. Cutting back led to one much more grateful child. Myself?? I'm going to the spa for a day, have some new clothes, a new Pampered Chef Baker, pinking sheers, lots of goodies for my tender tootsies and a large Home Depot Gift Card to put towards finishing my craft room. Ceiling and painting over 'Go Habs Go' and maybe even some mouldings woo hoo! I am going to call an electrician though to see how much it'll cost to put in two new outlets and move the thermostat to one controlled from that room.
Boxing day we finally got some snow!! This green Christmas crap does not agree with me at all. If it's going to be green I'd forego the tree and head to Disney in a heartbeat and for once watch the parade LIVE. Matt was storm stayed and it made up for the day he didn't get down :) We didn't go far as the city plows weren't on the roads. I started working on my Dragon Dreams Dust Bunny ornament which should be done before I head home :)
Today's Boxing Day sales held nothing more for me than a set of 99 cent gift tags, although that's very good for the pocket book ;) Tonight I'm planning on taking Alex to A Night At The Museum which should have a couple of laughs and if not, some yummy popcorn ;)